Flow
Before visiting Japan
Exam patterns by Japanese language ability
⇒ Flow of procedures after taking the exam
*What in common at all levels: To check the application requirements before taking the exam; To understand the "Policy for Accepting Applicants (Admission Policy, etc.)"; To take the "written exam and interview" on designated date and time. After passing the exam, successful applicants, who have provided the necessary "documents and expenses" and obtained a visa, can enter the university.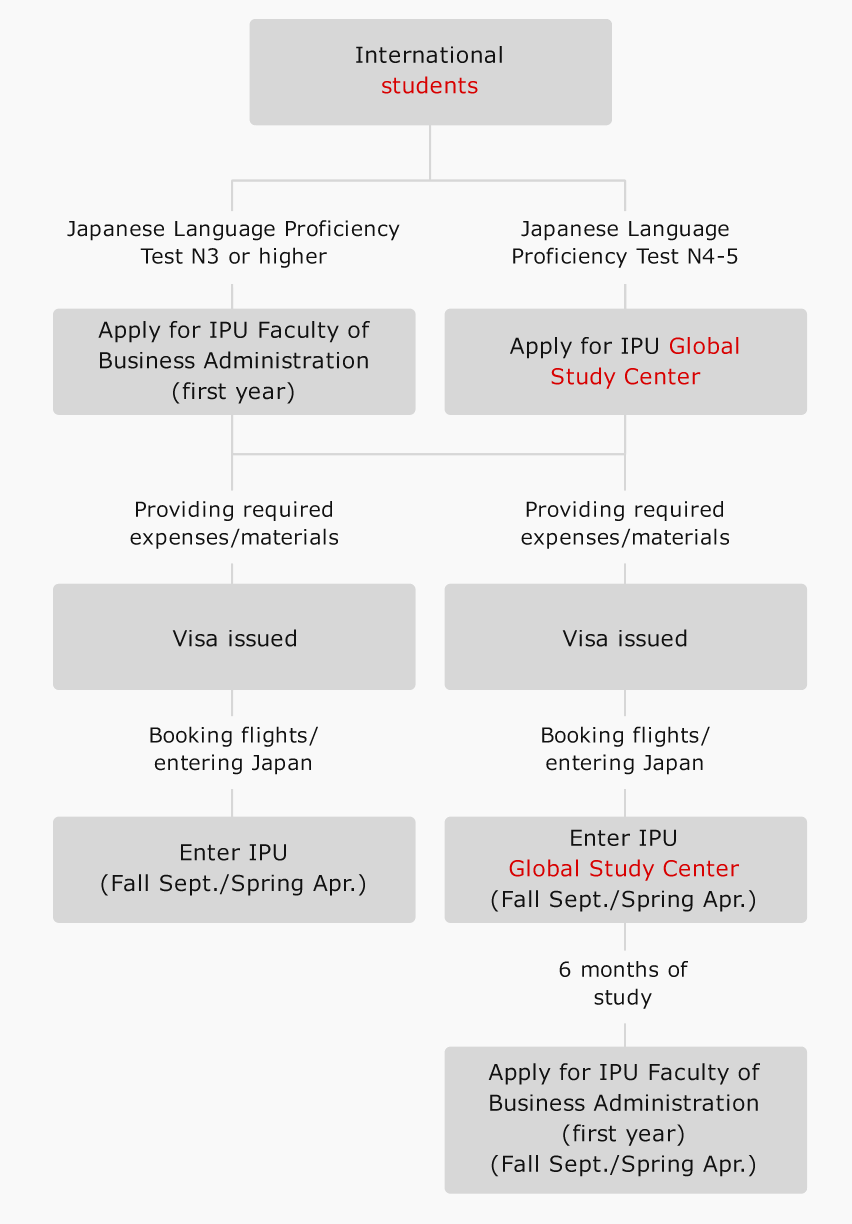 *Apply for IPU Global Study Center if N4 or lower.
*Maximum 1.5 years of enrollment if entered SGC in the fall, and 1 year if entered in the spring, with entrance exams for BA every 6 months.
Outline
Outline of Global Study Center (GSC)
International students who want to study at IPU Faculty of Business Administration but do not have sufficient Japanese language skill
To acquire Japanese language skill to study at IPU Faculty of Business Administration in half a year (strictly, in five months).
Specifically, students should be able to score 350 or higher on the J.Test (E-F level), understand Japanese sentences composed of basic vocabulary and expressions, and be able to express their opinions and summarize them in Japanese.
*Score of 350 or higher on the J. Test (E-F level) proves that a student has basic knowledge of Japanese and are qualified to take the entrance exam for the Faculty of Business Administration.
twice a year (Apr. and Oct.)  * About 15-20 students are accepted in spring and about 60 in fall every year.
About agents in each country
List of agents in each country
Vietnam
China
Thailand